Surya Namaskar ("Salute to the Sun") is more than a physical exercise for health and longevity. It is a holistic philosophy, a spiritual practice that holds the potential of a worldwide movement for inner and outer peace…

---
Surya Namaskar for World Peace seeks to enlist practitioners of any form of Surya Namaskar to dedicate their practice to world peace, whether for minutes or hours a day, and to envision themselves as part of an interconnected peace-making web encircling the globe. Harnessing the sun's energy on spiritual as well as physical and mental planes, we will transform ourselves and the world. Please join us!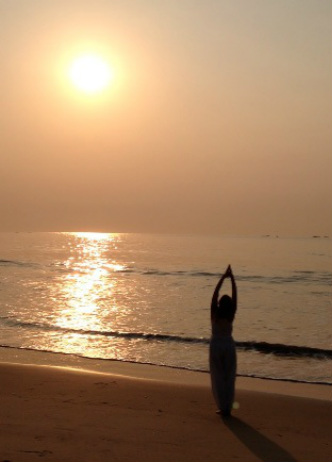 ---
"We meditate upon the universal source of light and life. We affirm that outer peace is dependent upon inner peace, that the health of our body, mind and spirit is an extension
and reflection of the health of the planet; that our collective survival and evolution
begins with individual awareness and action honoring our relationship
to nature, the cosmos, and each other."

---
The Vision: Harnessing the Solar Power of Surya Namaskar
Since times immemorial, people belonging to totally different cultures and religious traditions have realized and given expression to their dependence upon the Sun, our planet's source of light and life. Today, Surya Namaskar, rooted in the Hindu traditions of India, has become a universal. non-denominational and truly global expression of the human relationship to Source.
It is the world's most famous yoga exercise, practiced around the globe by hundreds of thousands, if not millions of people. There is not a single moment in a twenty four hour time period when, nor a continent where, it is not being performed. Hence Surya Namaskar is continuing, non-stop in serial succession, involving thousands of people of various nationalities all around the world. Surya Namaskar for World Peace seeks to collectively harness the power of this primal turning towards the Light for the benefit of the entire planet.

Moving beyond the "pray for peace" model (in itself a powerful practice) and resonating with the latest findings in neuroscience, Surya Namaskar is a dynamic meditation that involves all parts of the body and brain. Cultivating an active state of "peace-making" by turning our minds to peace while activating all physical, mental and spiritual systems within the body transforms individual consciousness. As thousands of Surya Namaskar practitioners around the world intentionally direct their collective "humane" energy towards peace, the earth's bio-psychic energy field will shift, resulting in an evolutionary leap in human awareness.
---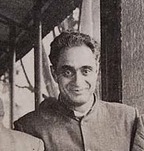 Inspiration:
Surya Namaskar for World Peace is dedicated to the vision of Sri Apa Pant, son of the Raja of Aundh, the reviver of Surya Namaskar in the modern age. A disciple of Mahatma Gandhi, he was Indian Ambassador to many countries of the world post independence. Apa Pant was not only a tireless worker on behalf of human rights and justice, he was also a visionary and yogi who played an important role for peace behind the scenes of Indian and world history. To read more, visit our
Profiles
and
History
pages.
---
Roxanne Kamayani Gupta, PhD,


Founder, Surya Namaskar for World Peace

Roxanne

has been literally dancing between East and West for over 40 years. She traveled alone to India to study Indian Classical Dance and yoga at the age of 19. To learn more about the path that led to Surya Namaskar for World Peace, go to Profiles.
---



Surya Namaskar and World Peace
How to Do Surya Namaskar
A Brief History of Surya Namaskar
Upcoming Events, tours, etc.
Schedule a Workshop
Our Founder, and Associates
Phone or Email Us
©Copyright Surya Namaskar For World Peace. All rights reserved.
Contact us