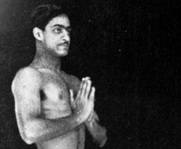 Sri Apa Pant
(1912-1992) was born a prince but gave up a life of privilege to become a tireless worker on behalf of world peace and justice. As a young man he became a close follower of Mahatma Gandhi, and later, a confidant of Pandit Nehru, an adopted son of the African freedom fighters, a dedicated benefactor to the Dalai Lama, and an International Diplomat who promoted intercultural and interreligious dialogue wherever he went. Inspired and empowered by his lifelong practice of Surya Namaskar and his father's example, he played an extraordinary role behind the scenes of modern Indian and world history. To find out more about Sri Apa Pant, the Raja, and our larger vision, visit our
history
page and explore our links.
___________________________________________________________
---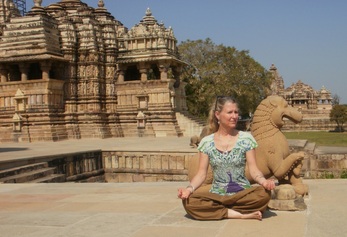 Roxanne Kamayani Gupta, PhD
Founder, Surya Namaskar for World Peace

Surya Namaskar for World Peace began as a spiritual inspiration for its founder, Roxanne Kamayani Gupta. For four decades Roxanne has been traveling, living, and literally dancing between East and West. Throughout her career she has sought to integrate art, science and spirituality through her yoga, writings and performances. A scholar of Indian culture and comparative religion, she studied under Huston Smith and Agehananda Bharati, at Syracuse University, earning her PhD in anthropology of religion.

---
First traveling to India in 1972, she studied classical Indian dance (Kuchipudi and Andhra Temple dance) in South India with renowned masters Natraj Ramakrishna, Vempati Chinnasatyam and A.B. Bala Kondalarao. Offering educational and thematic programs, she has performed for audiences in America, India, and Europe, including before such distinguished gurus as Mother Meera of Germany and the late Swami Satchitananda.

A teacher of hatha yoga since 1974, (Advanced Teacher's certification, Kaivalyadham Yoga Institute, Lonavala) Roxanne was initiated into Kriya Yoga by Sri Ganeshanand Saraswati and the Sri Vidya tantric tradition of Goddess worship by Sri Amritananda of Devipuram.

In the 1990's she conducted extensive research on the heterodox Aghor tantric tradition of Banaras, during which time she became a devotee of the late Avadhut Bhagwan Ram and completed her PhD under the supervision of the late Dr. Shukdev Singh, Banaras Hindu University and the famed Kashmir Shaiva scholar Dr. Mark Dyczkowski.

Formerly an Assistant Professor of Religious Studies at Albright College, PA, Roxanne has led

study abroad programs and private tours to India. She is the author of A Yoga of Indian Classical Dance: The Yogini's Mirror (Inner Traditions Int. 2000) and numerous articles related to Indian culture and spirituality.

Since the 1970's Roxanne has also been involved in environmental activism in the Finger Lakes Region of upstate NY, as well as the alternative health movement. A committed vegetarian, she completed certification from Hippocrates Health Institute founded by Anne Wigmore.

In 1988 Roxanne began studying the deeper dimensions of Surya Namaskar under the mentorship of Sri Apa Pant, retired Indian ambassador, Gandhian activist, and son of the Raja of Aundh who recreated Surya Namaskar for the modern age.
| | |
| --- | --- |
| | It was Apa Pant's lifelong commitment to non-violent struggle for human rights and world peace that inspired Roxanne's vision of Surya Namaskar for World Peace. Its formal founding was celebrated with a dance performance by Roxanne, her Guru Smt. Bala Kondalarao and Sri Aditya, at the Sri Suryanarayana (Sun God) Temple, Arasavalli, Andhra Pradesh on the Poornima (full moon) of March, 2013. |
---
Associates and
Members

TO JOIN OUR

SURYA MANDALA NETWORK

,

PLEASE

CONTACT US

We want to hear about your practice of

Surya Namaskar

We will link to your site when you link to ours and will advertise your Surya Namaskar related event…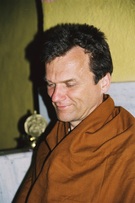 Krzysztof Stec , author Dynamic Suryanamaskar: Sun Salutations (Swami Vivekananda Yoga Prakashana 2012), born in Poland, studied yoga from the age of 15 under Tadeusz Pasek, the pioneer of yogic studies in Eastern Europe. Krzysztof earned a diploma in yoga education in 1976 at Kaivalyadham, Lonavala and did graduate coursework in physical education and physiotherapy at University of Poland. In 2002, in the midst of a successful career as a systems analyst in Silicon Valley, he returned to yoga full time, completing an M.Ph.E. from Banaras Hindu University in 2009. He completed his Ph.D. at University of Poland in Warsaw. In addition to his books on Surya Namaskar, Kris is the author of several research papers on yoga and he regularly writes and lectures on yoga, health and nutrition. When not traveling in India, Krzysztof is active in promoting yoga in Poland and abroad. He specializes in research and teaching his Dynamic Suryanamaskar technique for the achievement of optimum physical, mental, and spiritual health. contact: KRZYSZTOF.Z.STEC@GMAIL.COM
---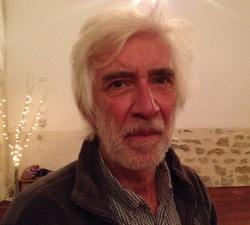 Jean Luc Riff is the founder and director of
Keyoha
, a spiritual Centre in Champmillon, France where he lives in a straw bale house and promotes an ecological lifestyle in combination with yoga. His own spiritual practice began with his exposure to the writings of Andre Van Lisbeth, a close disciple of Swami Sivananda in the 1930's who spread yoga throughout France. Since 2009 Jean Luc's spiritual practice has been inspired by Yoga teacher Xuyen of Sainte. Visit his website at:
www.keyoha.com
---
©Copyright Surya Namaskar For World Peace. All rights reserved.
Contact us