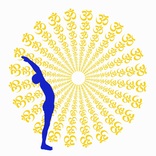 108 SURYA MANDALA
World Peace
is Inseparable from Respect
for Life on Earth

For hundreds of thousands of years, our Ancestors honored Life and Nature as a Mother, our Source and the Ground of Our Being through rituals celebrating sacred time and space. Today, as we face unprecedented challenges to our collective survival, we share in a global awakening awareness that the fragile balance of life on the planet is increasingly threatened. Nothing less than a total cultural transformation, a shift in consciousness that must begin with the individual and spread to the collective, will change our course and return us to a path of co-evolution. 108 Surya Mandala seeks to harness our collective energy towards the goal of a peace that fosters balance and harmony between and within individuals, societies, and nature.

---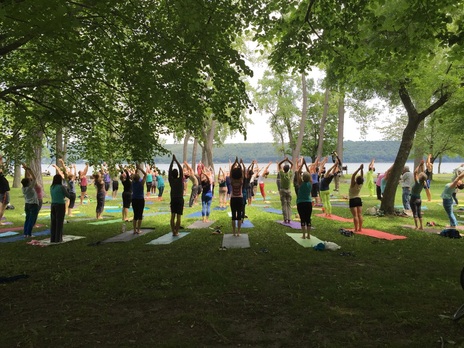 108 SURYA MANDALA: Is a collective ritual/art form in which Surya Namaskar is performed 108 times by a group of individuals who consciously unite the movement of their bodies, their minds and spirits in a circle or series of concentric circles (a mandala formation) while facing the sun. Mirroring the Sun, this "sun dance" creates a powerful energy that radiates out into the surrounding atmosphere and cosmos. Coordinating each of the 12 movements of Surya Namaskar with the Gayatri Mantra, the ancient Hindu mantra invoking the power of the sun, this ritual super charges the atmosphere with healing energy. Through collective will this energy can be directed towards a positive, life-affirming goal or as a universal prayer for "World Peace" in its most wholistic sense.

---
How to Coordinate Surya Namaskar with the Gayatri Mantra:
---
---

GAYATRI MANTRA: In the 108 Surya Mandala, the 12 movements of Surya Namaskar are coordinated to the chanting of the Gayatri Mantra 108 times. The Gayatri is considered the Queen of all Sanskrit mantras because it is the very embodiment of the Sun's beneficence. Its utterance showers blessings within and "good vibrations" without. It was once considered so powerful that only those initiated into the mantra (high caste Hindu males) were allowed to recite or even listen to it. Today we are fortunate that this powerful tool is available to those of us who seek to use it for good purpose on the planet. By its very nature it invokes the Light and cannot be misused.

The Gayatri Mantra:

Om Bhur Bhuvah Svah (Om) Tat Savitur Varenyam Bhargo Devasya Dimahi Diyoyonah Prachodayat

Om. I invoke that (tat) emanating source (savitur) that illuminates the earth, sky and cosmos (Bhur Bhuvah Svah) whose magnificent (varenyam) rays (bhargo) bestow upon all creation divine energy (devasya dimahi), innate intelligence (diyo yo nah), and guidance towards ultimate realization (prachodayat).

Instructions:

Om Bhur: hands up and back (inhale)

Bhuvah: head down (exhale)

Svah: left leg back, right knee bent, look up (inhale)

Om: flat back, body straight (hold breath)

Tat Savitur: knees, chest, chin or forehead on the ground (exhale)

Varenyam: push forward up into cobra (inhale)

Bhargo: push back into downward facing dog (exhale)

Devasya: left leg forward knee bent, look up (inhale)

Dimahi: right leg next to left, straighten, head at knees (exhale)

Diyo yo nah: arms up and back (inhale)

Prachodayat: palms together in front of chest (exhale)

Om (take a deep breath in and out)


Alternate between extending left leg back, then forward, with the right leg. The coordination of the breath described above works only if you perform the movements slowly. If done more quickly, your breathing pattern will adjust automatically as you become more absorbed in the repetition. Each person must find their own comfortable pace. In a Surya Mandala in which 108 rounds are completed, it is important that the pace be neither too fast nor too slow.

©Copyright Surya Namaskar For World Peace. All rights reserved.
Contact us