Offered by Roxanne Kamayani Gupta, PhD


• Surya Namaskar for World Peace: Harnessing Your Solar Energy
• The Yoga of Indian Classical Dance: For Students of Yoga
• Yoga for Indian Classical Dance: For Students of Dance
• The Sun Diet: Living Foods Preparation
---
Surya Namaskar for World Peace: Harnessing Your Solar Energy

| | |
| --- | --- |
| Learn the twelve postures of "classic" Surya Namaskar as developed by the Raja of Aundh, the early twentieth revival of Surya Namaskar in India and throughout the world. Discover the history of Surya Namaskar and its relationship to yoga and Brahminic sun worship in India. Practice the Sanskrit pronunciation of the 12 bhij (seed) mantras and names of the Sun in order, the mantras used to invoke the Sun's various energies both within the body and in the outer cosmos. Try several variations on Surya Namaskar, including the "long form" Surya Namaskar developed by Roxanne that serves as a total morning attunement and alignment with the eight interpenetrating Crea(tive) fields expounded by Sri Ganeshanand Saraswati. | Participate in a Surya Mandala, a group ritual with progressive Surya rounds to create an energy vortex in your solar plexus and communal nexus. Meditate on Surya Namaskar as a powerful tool for transforming consciousness and invoking world peace within and without. |
---
| | |
| --- | --- |
| The Yoga of Indian Classical Dance: For Students of Yoga | Incorporate elements of Indian classical dance into your yoga practice. Roxanne Kamayani Gupta, Ph.D, Indian classical dancer, Yoga instructor, and scholar of tantra and Goddess worshipping traditions of India, will lead us in a series of still and dynamic asanas designed to invoke shakti within and grace without. Incorporate mudras (hand gestures) and basic postures (karanas) and movements from Indian dance to create a focused and dynamic yoga practice. Learn about the "dance of the five elements" and how the four abhinayas or modes of expression central to classical dance operate in daily life. Meditate on the relationship between the "twin disciplines" of yoga and dance to enhance self awareness and deepen your spiritual practice. |
---
---
Explore yoga as the foundation of Indian Classical Dance. Based on Roxanne's book "A Yoga of Indian Classical Dance," we will learn a series of yogasanas that serve as the best warm up for Indian dance. Through yoga, geometrically align your posture to create a more sculpturesque effect. Integrate the teachings of yoga into your dance practice to develop greater concentration, mental and physical flexibility and psychological insight into the deeper dimensions of the Indian tradition. Learn how dance helps develop "psychic powers" through the four abhinayas (modes of expression outlined in the Natya Sastra text.) Explore the archetypal mythological themes of the dance and the roles of the Gods and Goddesses in our inner world.
Incorporating the best elements of East and West, use yoga and dance to increase self awareness and gain a greater appreciation of Indian Classical Dance and its relevance to daily life.
The Sun Diet: Living Foods Preparation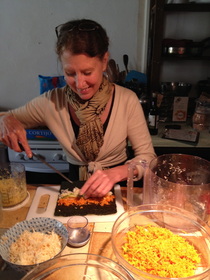 At the age of 24, Roxanne opened The New Delhi natural foods restaurant in Geneva, NY where she served ethnic vegetarian fare, sprouts, and fresh juices. A master of Indian vegetarian cuisine, Roxanne transitioned to vegan and raw after being trained in living foods preparation at Hippocrates Health Institute in 2011. In her Sun Diet workshops, Roxanne shares the techniques for preparing delicious raw dishes using chlorophyll rich ingredients as well as how to spice up healthy vegan cooked dishes. She shares her insights into the science and spirituality of food preparation based on Ayurveda as well as folk wisdom about food gathered during long periods spent in Indian kitchens. Participants get a hands-on experience and everyone gets to eat what is prepared!

---
FOR MORE INFORMATION AND PRICING ON WORKSHOPS,
CONTACT US
...
©Copyright Surya Namaskar For World Peace. All rights reserved.
Contact us